If you're an existing Chase credit card customer, you can access personalized Chase balance transfer offers instantly online by going to their website.
Simply log-on to their website and click on the "transfer balances" link next to your available credit card balance. You should see this option next to each Chase credit card in your account.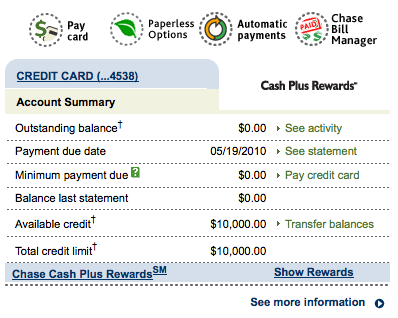 See the Offers for Existing Chase Customers
Once you click, a page will pop up with credit card balance transfer offers currently available to you for that particular card. I had these two offers attached to my Chase Freedom credit card. Both are, rather remarkably, just about the same.
They're actually pretty good deals too. You get about 14 months of 0% APR with a 2% balance transfer fee, which is lower than the non-Chase customer 3% fee that is normally charged.
I had a different offer tied to my Chase Ink business card that charged a 3% balance transfer fee, FYI.
Once you select an offer, you'll be presented with a page that asks you to enter the credit card number you want to transfer from and the transfer amount. Simply enter the credit card number of the card with your high-APR debt and the amount desired.
They will show you your available credit so you know how much you're able to transfer. I believe you need to leave some room for the balance transfer fee so the total doesn't exceed your limit. From there, it can take up to three weeks for the balance transfer to post, per Chase. So continue to pay your old credit card.
Note that there may also be times when there aren't any offers for you and once you click on "transfer balances" you'll see the following page:
Even if there aren't any offers in your account, you can still apply for a Chase balance transfer on their website or via affiliates.
But in the past it wasn't uncommon to see multiple offers, and I'm sure there will be more in the future once the financial crisis passes.
Keep in mind that these balance transfer offers are for moving a credit card balance to Chase, not from Chase.
So if you have a balance with a Chase credit card that you'd like to move via a 0% APR balance transfer or a life of the balance transfer, you'll have to apply with other card issuers.
Avoid Opening Another Credit Card
But if you have an existing balance with say American Express or Bank of America, you can use this handy tool to move the debt to an existing Chase credit card of yours and avoid opening a new card for the purpose of transferring a balance.
This is a neat trick to avoid opening a new credit card and potentially avoid the credit ding related to a new credit card application. It's unclear if Chase will run your credit to transfer a balance to an existing card in your account. You can ask them if you're at all concerned.
All the major credit card issuers have similar set-ups on their websites and it's recommended that you always at least check out their offers to see how they stack up.
They may provide exclusive deals you won't find anywhere else, and if you're already pre-approved, a credit inquiry may not be necessary, lessening any credit scoring impact.