Looking for the latest balance transfer offers from Citi? You've come to the right place.
If you have existing credit card debt with American Express, Bank of America, CapOne, Chase, Discover, or even HSBC, you can move it to a Citi card via a balance transfer and save tons of money on interest.
If your credit card debt is already with Citi, you'll need to transfer it to one of the other issuers mentioned above. If it's not, check out these low interest credit card offerings from Citi.
Citi Credit Card Balance Transfer Offers:
Citi Simplicity Card – 0% APR on balance transfers for 24 months!
It has since been lowered to 21 months, but also comes with 0% introductory APR on purchases for 21 months and has no annual fee! There is a 3% balance transfer fee with a minimum of $5 charged per transfer.
Citi AAdvantage Platinum Select MasterCard (targeted offer) – 0% APR for 14 months on both purchases and balance transfers with a 3% fee ($5 minimum) and $95 annual fee, which is waived the first year.
Citi Diamond Preferred® Card – 0% APR for 21 months on purchases and balance transfers with no annual fee and a 3% balance transfer fee ($5 min).
Citi Double Cash Card – 0% APR for 15 months on purchases and balance transfers with a 3% balance transfer fee ($5 minimum per transfer) and no annual fee.
Citi ThankYou Preferred Card – 0% APR for 12 months on purchases and balance transfers with a 3% balance transfer fee ($5 min) and no annual fee.
As noted, the balance transfer fee on all four of these cards is $5 or 3% of the amount of each transfer, whichever is greater.
These are the best and only Citi balance transfer offers available at the moment.  Citibank used to have some of the most aggressive balance transfer offers out there, though they've recently scaled back with the rest of the credit card industry.
They used to offer 0% balance transfers with no fee without batting an eye, but pretty much all the no fee balance transfers out there have gone the way of the buffalo (or the credit union).
Citi Offers the Longest 0% APR Balance Transfers in the Industry
However, Citi does have some of the longest 0% APR balance transfers available, even if there is a pesky balance transfer fee, making them an ideal choice for those with large credit card balances that will likely take more than 12 months to pay off entirely.
Their Citi Simplicity credit card was recently bumped up from 0% APR for 18 months to an even longer 21 months, which is pretty darn aggressive given the current financial climate. It has no fees other than a 3% balance transfer fee.  That includes no late fees, though I'm sure most cardholders would prefer that there not be a balance transfer fee.
If you do apply for this credit card, it is recommended that you ask that they waive the balance transfer fee, given their promise of "simplicity." It may just work, and save you a ton of money!
There's also the Citi Double Cash Card, which offers promotional 0% APR on both purchases and balance transfers for 15 months and 2% cash back on purchases once you pay off your balance.
The only drawback is that the balance transfer fee is 3%, so if you were to transfer a $5,000 balance, you'd be stuck with a $150 fee.
But that probably still beats paying hefty finance charges every month.
You can also go with the Citi ThankYou Preferred Card, which offers a less attractive 12 months of 0% APR on purchases and balance transfers, though I don't see why you would unless you have the other, better cards.
Lastly, take note that it's only a matter of time before Citi re-introduces better credit card balance transfer offers, so be sure to visit this page often.
Citi Balance Transfer Offers for Existing Cardholders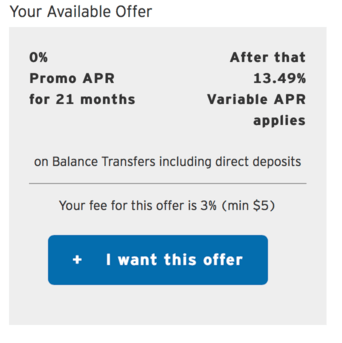 If you're already a Citi customer, you can access balance transfer offers without opening a new credit card.
In order to do so, you must visit the Citi website. First click on Account Management, then Rewards & Offers, and finally on Balance Transfer.
From there, you can view available balance transfer offers in your account, assuming there are any. Typically, there are.
I had an offer of 0% APR for 21 months with a 3% fee. That's pretty solid, especially since I don't have to open a new credit card account to take advantage of it.
What's even cooler is that you can choose how you want to receive the funds. You can have a credit card or loan paid off directly, opt for a direct deposit to your checking account, or get a check by mail.
Citi Balance Transfer Tips
As you can see, Citi always has a lot of balance transfer offers to choose from, which is nice. Additionally, they offer long 0% APR periods.
Aside from these offers, it's pretty common to receive a Citi balance transfer check in the mail if you're already a customer. Keep an eye out as because some good deals can wind up in your mailbox.
This is one trick to do a balance transfer between Citi cards by depositing the money, then paying off a different Citi card from your bank account.
However, they often require you to request the balance transfer within four months of account opening in order to get the special promo rate, so don't wait too long!
As far as how long a Citi balance transfer takes, they say at least 14 days after your account is opened to process any payments if requested with a new Citi credit card application.
The good news is you're able to call them during this time (using the number on the back of your credit card) to cancel or modify any balance transfer requests.
You can also wait until you receive your new card and know your credit limit to request a balance transfer, using that same phone number on the back of your card.
Lastly, you're able to transfer any amount up to your credit limit, including the applicable balance transfer fee. For the record, those fees are generally 3% of the amount transferred, which is industry-standard.
Tip: If you're already a Citi credit cardholder, be sure to log-on to your account online to see available balance transfer offers tailored for you.