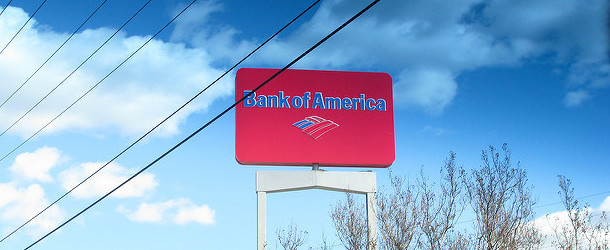 In the past, Bank of America offered some pretty competitive credit card balance transfers, such as 0% balance transfers and promotional APR for as long as 15 months.
Once the financial crisis hit, the bank seemed to adjust its risk appetite and stopped offering promotional APR on balance transfers.
Now they're back with some new balance transfer promotions, including some lengthy 0% APR options. Take a look at the deals they've got going on below.
Bank of America Balance Transfer Offers:
BankAmericard Credit Card – 0% APR for 18 billing cycles on balance transfers made within 60 days of account opening. There is a 3% balance transfer fee ($10 minimum), but no annual fee. Nice long intro APR period here from Bank of America.
The 0% APR period on this deal is pretty decent, but the 3% balance transfer fee is something you might try to avoid. I can't recall Bank of America offering any no fee balance transfer offers, but it's somewhat possible one might come along in the future. You can also ask them to waive the fee if you're an existing customer with a good banking relationship.
BankAmericard Cash Rewards Credit Card – This offer comes with 0% APR on purchases and balance transfers for the first 12 billing cycles. After that, the APR will be a variable 13.24% to 23.24%, based on your credit score. The balance transfer fee is the greater of 3% or $10 and there is no annual fee charged.
If you need a credit card strictly for balance transfers, go with the first offer with the longer 0% APR period. If you want 0% APR on any new purchases you might also make, go with the second offer since the promotional APR applies to both types of transactions.
These are the only two balance transfer offers currently available from Bank of America.
Note that the Bank of America Alaska Airlines credit card doesn't come with introductory APR, and thus isn't a good balance transfer candidate.
Additionally, Bank of America doesn't offer any business credit cards with 0% APR on balance transfers. Some come with intro APR on purchases though.
To sum it up, you're probably going to find more aggressive balance transfer offers with the likes of American Express, Capital One, Chase, Citi, Discover and HSBC.
Keep this page bookmarked, as any Bank of America balance transfer offers that do come about will be posted here immediately.
Also be sure to check with Bank of America directly if you're currently a customer, as they may have exclusive balance transfer offers available for existing customers.
Contact Bank of America by phone to inquire about such offers or check your account panel online if you have access.
Bank of America Balance Transfer Offers for Existing Customers
If you're already a Bank of America credit cardholder and want to see if there are any offers already waiting for you, it's pretty quick and simple.
Once logged in to their website, simply click on "transfers" then "for credit card balance transfers" to see available offers.
I only had one offer and it was beyond laughable. A sky-high 13.99% APR with a 3% balance transfer fee. Really no point to even offer that if you ask me. It's basically just a standard purchase APR.
Perhaps you'll have better luck…but you might be better served just searching for balance transfer offers on the BofA website and then applying for a new card. Chances are you'll be able to get a 0% APR offer.
Bank of America Home Equity Balance Transfer
Another popular option offered by Bank of America is it's so-called "Home Equity Balance Transfer," whereby homeowners transfer credit card balances and other loans with high APR to a home equity line of credit.
However, the interest rate on home equity lines is generally close to the prime rate, which is always above zero, and currently in the range of 3-4%, so it's not as cheap as a 0% APR credit card balance transfer.
The only edge it may have is a larger line of credit, allowing you to transfer all of your balances, assuming they exceed the balance transfer limit on standard credit cards.
But taking out loans against your home isn't always the wisest decision, especially seeing that your house can be foreclosed on if you don't keep up with payments!
These credit card issuers tend to be more active in the balance transfer game, and may offer 0% APR for as long as 24 months in some cases.
In conclusion, Bank of America may be better served to handle your checking account rather than offer you a competitive balance transfer credit card, but it's always worth a look to be sure.
Bank of America Balance Transfer Tips
Typically, Bank of America charges a 3% balance transfer fee on all their offers with a $10 minimum fee. However, you might see a higher or lower fee occasionally, so be sure to take a hard look at the fine print.
They have also been known to send out balance transfer checks to existing customers, which can be a quick and convenient way of taking advantage of their offers. Again, make sure the deal is a good one before you dive in.
If you're wondering how long a Bank of America balance transfer takes, it can take five days or less for existing credit cards (that's pretty fast) and two weeks or longer for balance transfers tied to a new credit card application.
Either way, give yourself time to avoid any missteps along the way, and always make sure all your accounts are paid on time.