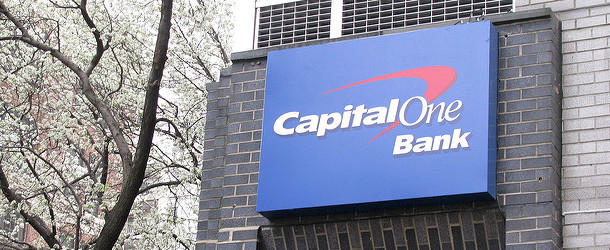 Capital One offers a number of competitive balance transfer credit cards, including several 0% balance transfer credit cards, which are clearly the most sought after.
However, they certainly aren't the most aggressive out there, as their offers always seem to come with a balance transfer fee if the APR is north of 0%.
But if you have credit card debt with the other major issuers (Amex, BofA, Chase, Citi, Discover, HSBC, they may be a good candidate to take on your debt.
Capital One Balance Transfer Offers:
Capital One QuicksilverOne – Capital One is currently offering 0% APR for around nine months with no balance transfer fee. The drawback is there's an annual fee of $39 so it's not truly free.
If you transfer an amount less than $1,300 you're better off going with a balance transfer credit card that charges you a 3% balance transfer fee without an annual fee and longer 0% APR, such as 12 months or more.
However, you can get approved with average credit (Capital One says this themselves so it must be true), meaning it's still an offer worth looking at for some folks.
Capital One Quicksilver – Alternatively, you can apply for the regular version of the card that offers 0% APR for the same amount of time without an annual fee but a 3% balance transfer fee. This might make sense if you transfer less than $1,300, as I mentioned. However, you need excellent credit, per Capital One.
These are the only two low-APR credit card offers from Capital One at the moment.
Their 0% APR credit card offers can help you avoid paying any credit card finance charges for nearly one year.
Capital One Cardholders Can See Balance Transfer Offers Online
If you're a current Capital One cardholder, it's easy to see the latest balance transfer offers currently available to you.
Simply log-in to your account online and click on "balance transfers" to see what offers, if any, you can take advantage of.
Capital One also has a pre-qualified credit card finder, which will tell you in 60 seconds if you qualify for any of their credit cards, including balance transfer credit cards.
It doesn't require a credit pull, so your credit score will not be affected. This is a good way of determining if you're eligible for a balance transfer, without having to go through the application process, only to find out that you were denied.
Additionally, Capital One frequently sends balance transfer checks to existing customers, which can also be utilized. However, these checks may not come with the best terms, so be sure to comparison shop a bit before taking up one of their offers.
All in all, Capital One has some quality balance transfer offers available to those with good to great credit.
So be sure to check them out when shopping for a balance transfer, especially if you have credit card balances with the other major issuers.
One nice advantage is that Capital One may not be in your arsenal of credit cards already, which means you'll be able to transfer any other balances without having to worry about them being from the same bank.